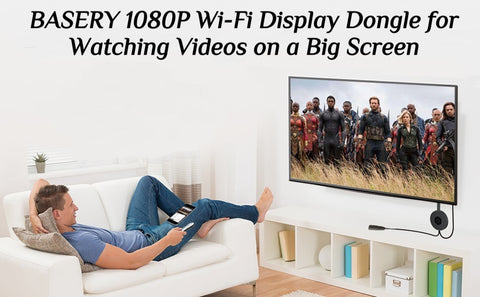 【Big Screen Experience】As a HDMI adapter for TV,It is absolutely casting/mirroring photos,video,radio,music,office document(Word,Excel,PPT),live camera,online chat,movies,games etc.to 4K/1080P HDTV,projector or monitor from iphone,windows laptop,ipad,macbook,tablets,android smart phones.Bring entertainment to the 4K big screen,suitable for home entertainment/business/educations/training.(Note:Both 4K and 1080P Definition are optinal ,Default Definition is 1080P, need change it to 4K.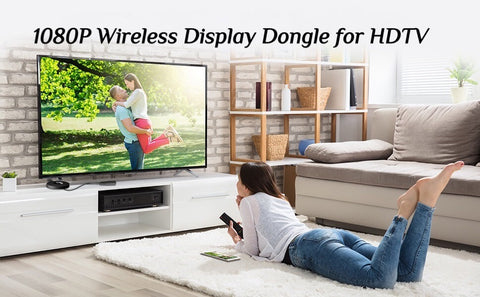 【4K Ultra HD Definition&1080P Definition Display】with 4K(3840 X 2160) resolution and 1080P HD resolution(Default Resolution is 1080P ),this WiFi Display Dongle offers you the most clear and vivid images in a large screen. You can directly mirror or cast content (HD videos/games/music/photos/files) from your smartphone/tablet/ PC/Mac to HDMI devices such as TV and projectors.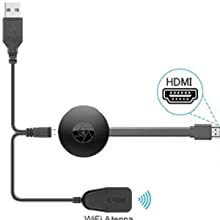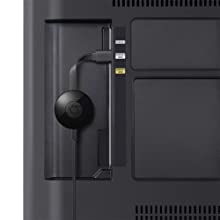 Step 1: Put the WiFi Atenna & USB cable into Chromecast main body
Please use a USB plug with an output current of at least 5V 1A to power this dongle;
Wireless Dongle Include:
1 x Chromecast Main Body with Hdmi cable
2 x USB Cable with WiFi Antenna
Step 2: Put HDMI and USB Cable into TV Port
Enter hdmi cable into TV's HDMI port;
Put USB cable into TV's USB port or use a adapter for it.
Notice:
Directly using TV port may make this device fall to work.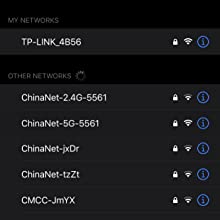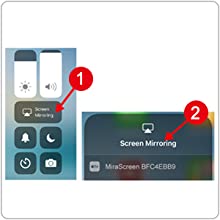 Step 3: Open your cellphone, connect with Wifi named: SP-00A4E1
Find the wifi named: SP-00A4E1 on the smartphone,
Password: 12345678
Use your cellphone to connect this wifi by Wifi set or scanning the code on the TV blue page
Step 4: Start your iphone's Screen Mirroring
After connected the SP-00A4E1 wifi, then Start the Screen Mirroring of your iPhone
Then you can see everything from your phone on TV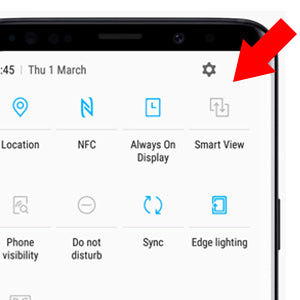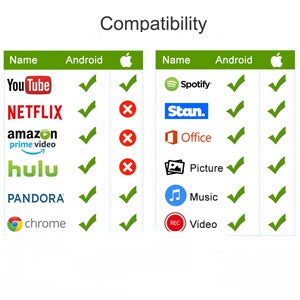 【Multi-Compatibility & Stable Signal】Support Miracast / Ezmira/ Airplay/DLNA.Smartphones / tablets / Laptop (Samsung, Sony, iPhone, etc ) with Android 5.0+ / iOS 8.0+ / Windows 8.1+ /Mac OS 10.10+ are supported. This dongle is a screen mirroring adapter for TV. External Antenna 3m Wifi Signal Will Provide More Stable Wireless Than Other Devices(Wi-Fi: SP-00A4E1 , password:12345678). Adapter for Streaming Video, Web Surfing, Photo Viewer, Live Camera Sharing, Media Player.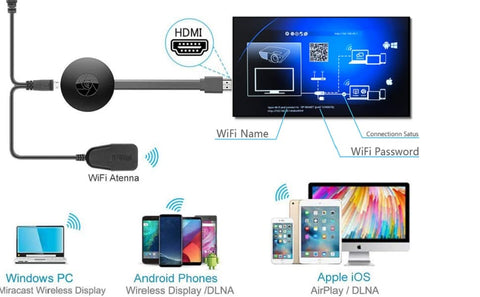 【Easy to Use & Switch Unnecessary】Plug and Play, no driver or App required for this wireless display dongle! Only 3 steps to enjoy yourself on a large screen. 1. Plug it into TV's HDMI interface, then use 5V/1A or higher power supply; 2. no need to switch between Airplay and Miracast, it switches automatically, super easy. 3. Connect Wifi name: SP-00A4E1, Password: 12345678. After connected, then open cellphone Screen Mirroring.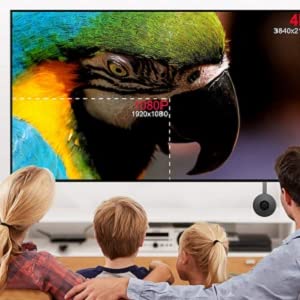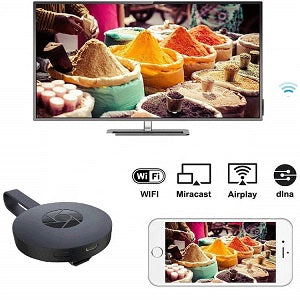 【Notes】This product does NOT include a USB power plug, you need to prepare it yourself (USB 5V 1 / 2A). Please do NOT use the TV's USB port to directly supply power. Insufficient current may cause the device to fail to start or fail to connect. This product does not support Apple AirPlay screen mirroring playback of paid encrypted video apps such as Netflix, Hulu, Amazon Prime Video, Disney +, etc.